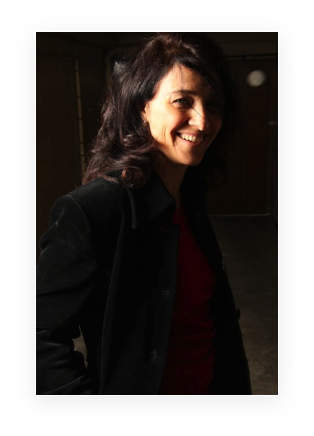 Michela Trovajoli est née à Rome en 1965.
Compositrice, pianiste concertiste de formation,est professeur titulaire de musique de chambre au conservatoire Nationale Supérieure de Salerne (Italie).
Elle a obtenu son Diplôme de Piano au CNS de Bologne en 1986 et le Diplôme Supérieur (Premier prix) de Musique de Chambre à l'Accademia Nazionale Santa Cecilia avec Felix Ayo en 1992.
Elle a approfondi la technique pianistique avec F. Mariani et B. Canino et avec S.Perticaroli à «l'International Summer Akademie der Hochchule Mozarteum» de Salzbourg.
Elle a perfectionné son répertoire de musique de chambre : deux ans avec G. Carmignola, répertoire piano et instruments à cordes (Artis master class de musique de chambre de Vérone); deux ans avec D. de Rosa et M.Jones, répertoire pour deux pianos (Scuola di musica de Fiesole-Firenze et A.R.A.M. de Rome).
Son activité de concertiste l'a amenée à jouer de nombreux concerts en Italie et en France, en soliste, en duo pour deux pianos et en formation de musique de chambre. Elle a interprété en direct pour la R.A.I. (Radio télévision Italienne) des œuvres de Mozart, Brahms et Debussy.
Elle vient vivre en France en 2001.
Elle a été la coordinatrice et la directrice artistique en collaboration avec JeanJacque Decreux, d'un projet pour des élèves de troisième cycle lié à la composition, l'improvisation et au théâtre musical dans le cadre d'un échange entre les CNR de Poitiers et le Conservatoire de ReggioCalabria, sous le parrainage de Luciano Berio.
Elle a développé une méthode originale de piano basée sur l'improvisation et la composition (Compongo dunque suono).
Elle tient régulièrement des conférences et des Master Classe sur le thème de la pédagogie de la création dans le cadre de Cycles Spécialisés.
En 2008 elle a obtenu le diplôme de musique de films sous la direction de P. Mestral (Ecole normale de musique de Paris) et le DEM d'écriture sous la direction de F. Saint-Yves (Conservatoire d'Aubervilliers).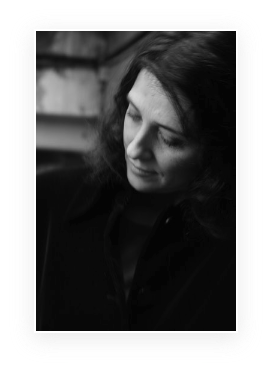 Elle a étudié l'improvisation non idiomatique avec A. Savouret et R. Boesch, et l'orchestration avec Michel Merlet et Antony Girard. Après avoir étudié avec P. Mion (Conservatoire de Vitry-sur-Seine) et G. Favotti (Conservatoire G.Bizet), elle a obtenu en 2013 le DEM de Composition Electroacoustique sous la direction de Denis Dufour au CRR de Paris.
Elle a composé la musique de deux courts-métrages, «Et voilà» de P. Gueu (2006) et «Dernier Rappel» de S.Buffi et N.Froment (2007) diffusé au cinema l' Arlequin de Paris. En collaboration avec la photographe Avigail Schimmel, elle a conçu un projet multimédia sur le thème de l'exil pour l'association canadienne «Poexil» (2009). En 2014, elle a revisité The Flat, un court métrage de Jan Swankmajer.
En 2014 le Community Festival of Sound Arts lui a décerné le "1st SpécialPrize" pour son Hoerspiel "TALITA KUM".
Sa musique a été jouée;
"Musiques à réaction" en 2012 et en 2013; SILENCE, Festival International de Musique Acousmatique de Lecce édition 2013, Silence Festival Cittadella della Scienza Bari; ainsi qu'au Festival Bande à Sud, Bande Critiche, "Suoni tra due mari" en 2013, 4° Festival Ecouter Voir et CRR Perpignan Meditarranée, Notte di musica elettronica per Bande Sud, Motus cicle Cyntax à Perpignan, 4°Festival de Musique Elettroacoustique de Salerne Electrik Schock Hazard, Acusma Teatro del Suono, 5° Festival de Musique Elettroacustique et Contemporaine "Confini Mediterranei", Radio CEMAT.
PIANISTA-COMPOSITRICE
Michela Trovajoli è nata a Roma nel 1965.
La sua produzione musicale è orientata verso la musica da film, la musica elettroacustica nella sua forma di teatro musicale immaginario e l'improvvisazione non idiomatica come epifanie di sonorità che scaturiscono dal dispiegarsi di storie e visioni interiori.
Pianista concertista di formazione, si é laureata in pianoforte al Conservatorio di Bologna nel 1986 e in musica da camera all' Accademia Nazionale di Santa Cecilia a Roma con F. Ayo 1992, perfezionandosi tra l altro all International Akademie der Hochchule Mozarteum con S. Perticaroli approfondendo la tecnica pianistica con F.Mariani e B.Canino. Ha perfezionato il repertorio della musica da camera nei corsi biennali di Artis Master Class di Verona con G. Carmignola e con il Trio Tchaykowsky (Pavel Vernikov, Alexander Chaushian, Konstantin Bogino). Presso la Scuola di musica di Fiesole ha consolidato il repertorio per 2 pianoforti e 4 mani con D. de Rosa e Maureen Jones. Svolge intensa attivita concertistica in varie formazione da camera per istituzioni prestigiose in Italia e all'estero. Ha registrato ed eseguito in diretta radio R.A.I. opere di Debussy, Brahms e Mozart.
Vincitrice del Concorso Nazionale pubblico per titoli ed esami nei Conservatori di Musica, é docente di musica da camera dal 1996.
Vive tra Roma e Parigi dal 2001.
Ottiene il diplôma Superiore di musica da film con P. Mestral, il DEM di scrittura negli stili classici con F. Saiyve, studia l'orchetsrazione con M.Merlet e A.Girard
Interessata alla pedagogia legata all'improvvisazione ed al teatro musicale ha ideato insieme a Jean Jacque Decreux uno spettacolo_seminario, patrocinato da Luciano Berio, per il Conservatoire National de Regione di Poitier e il Conservatorio di Reggio Calabria.
Tiene conferenze e stage sulla pedagogia creativa in Italia e all'estero.
Studia l'improvvisazione non idiomatica con A. Savouret, R. Boech, la musica elettroacustica con Ph. Mion, G. Favotti, D. Dufour con il quale consegue il Diploma di composizione elettroacustica al CRR di Parigi. Nel 2004 ha rivisitato "The Flat", un cortometraggio di Jan Swankmajer. Alla 4° Edizione del festival Comunitario della arti sonore "DI-STANZE 2014" le é stato conferito il Premio Speciale per l'opera "Talita kum".
Ha composto musica elettronica, musica per formazioni da camera e orchestra, e musica da film per due cortometraggi: «Et voilà» di P. Gueu e «Dernier Rappel» di S. Buffi e N. Froment.
In collaborazione con la fotografa A. Schimmel ha concepito un progetto multimediale sul tema dell'esilio per l'associazione Canadese Poexile.
Le sue opere acusmatiche sono state eseguite al CRR di Parigi nella rassegna Musique à réaction nel 2012 e 2013, al Festival Internazionale di Musica Acusmatica di Lecce 2013, Festival Silence Festival Cittadella della Scienza di Bari 2013, Ecouter Voir et CRR Perpignan Meditarranée, Notte di musica elettronica per Bande Critiche Sud, "Suoni tra due mari" en 2013, Motus cicle Cyntax a Perpignan, 4°festival di musica elettroacustica del conservatorio di Salerno Electrik Schock Hazard, Acusma Teatro del Suono, 5° Festival de la Musica Elettronica e Contemporanea "Confini Mediterranei". RadioCemat.
PIANIST-COMPOSER
Michela Trovajoli was born in Roma in 1965.
She is a fully trained pianist concert performer and chamber music Professor at the Conservatory G. Martucci, Salernosi. She obtained a piano degree at the Conservatory of Bologna in 1986, another in chamber music at the National Academy of Chamber Music of Santa Cecilia in Rome with honors, specializing at the International Mozarteum Akademie der Hochchule and in the two-year courses of Artis Master Class of Verona, the Fiesole School of music.
She has a heavy schedule of concerts in various chamber ensembles in Italy and abroad. Since 2001, she has been living and commuting between Rome and Paris, where she devotes her time to the study of composing.
She obtained the higher diploma in film music with P. Mestral, the written DEM in classic styles with F. Saiyve, and studies the orchestration with M. Merlet and A. Girard.
She is passionate about painting and literature, interested in transdisciplinarity, musical theater and pedagogy linked to improvisation. She devised a seminar performance together with Jean Jacque Decreux, which was sponsored by Luciano Berio, for the Conservatoire National de Region of Poitiers and the Conservatory of Reggio Calabria.
She has done a profound study of non-idiomatic improvisation in its aspects of pedagogy-compositional strategies with Savouret A., R. Boech.
She has begun studying electronic music where she sees an opportunity to materialize her desire to merge 'image with sound.
She studies with Ph. Mion, G. Favotti, D. Dufour with whom she follows the electroacoustic composition diploma at the CRR of Paris.
She has composed music for chamber ensembles, orchestra, and film music for two short films: "Et Voila" by P. Gueu and "Dernier Rappel" Funny St. and N. Froment.
In collaboration with the photographer A. Schimmel, she has developed a multimedia project on the theme of exile for the Canadian Association Po-exile.
In 2004 she revisited "The Flat", a short film by Jan Swankmajer.
Her acousmatic works have been performed at important national and international festivals: Musique à réaction in 2012 and 2013 at the CRR in Paris, the International Music Festival Acusmatica of Lecce in 2013, Silence Festival at Cittadella of Science in Bari in 2013, Ecouter Voir et CRR Perpignan Meditarranee, Electronic Music Night for Bande Criticism South, Motus cicle Cyntax in Perpignan, "Suoni tra due mari" in 2013, the 4th festival of electroacoustic music at the Conservatory of Salerno Electrik Schock Hazard, Acusma Teatro del Suono, 5th Festival de la Musica Elettronica e Contemporanea "Mediterranean Borders", RadioCemat.
At the 4th edition of the Community festival sound arts "DI-STANZE " she was awarded the Special Prize for the "Talita kum" work, in the category radio works.
Photos : ©Avigail Schimmel